---
Description
Meili est une chienne de 1 an très joueuse et très gentille. Elle aime les câlins et est tres enthousiate et speedy. Elle est aussi assez têtue. Un vrai caniche !
This breed is naturaly friendly towards strangers.
---
Personality
Dog friendly
Player
Easy
Obedient
This dog is comfortable being walked by multiple people
---
Day
Morning
Afternoon
Evening
The owner accompanies you for the first walk
---
Favorite Places
---
---
---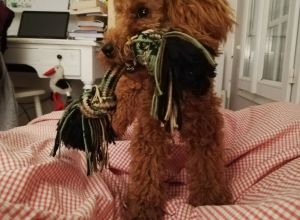 Pick a time slot for the walk.