---
Description
My dog is the best dog in the universe. 😊 She is large but gentle, doesn't have a mean none in her body and is extremely sensitive to peoples "vibes". She's a doll!!! Doesn't chew up stuff or make messes. She sleeps. Quite a lot. She's an awesome companion and an easy walk. Doesn't pull and has no dog or cat aggression. Honestly, best dog in the world.
---
Personality
Dog friendly
Player
Easy
Obedient
This dog is comfortable being walked by multiple people
---
Day
Morning
Afternoon
Evening
---
Favorite Places
---
---
---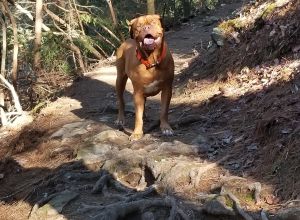 Pick a time slot for the walk.