---
Description
Godric is a giant softie that submit very easily to other dogs, but has trouble understanding when to stop. He doesn't react when attacked, but will out his paw down when his winter coat is under danger. He is a therapy dog that might be trained as a service dog. Otherwise he gets along with pretty much everybody but he does demand a lot of attention. The lab in him left him with a lot of energy. His favorite activities include dragging his mom around and destroying toys into tiny pieces. He's allergic to grains.
This breed is naturaly friendly towards strangers.
---
Personality
Dog friendly
Player
Pulling
Untrained
This dog is comfortable being walked by multiple people
---
Day
Morning
Afternoon
Evening
---
Favorite Places
---
---
---
---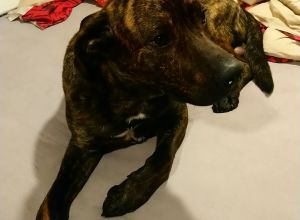 Pick a time slot for the walk.