---
Description
My little Comet is a four-month-old lab-cross puppy. I got him on January 27 from a rescue. (He was from Texas.) He's a great little guy! He seems to love everyone! He is overcoming a fear of being outdoors, and so far will only walk when I am also there. Hopefully soon, he'll be okay with walks without me also there.
This breed is naturaly friendly towards strangers.
---
Personality
Dog friendly
Calm
Easy
Obedient
This dog is comfortable being walked by multiple people
---
Day
Morning
Afternoon
Evening
The owner accompanies you for the first walk
---
Favorite Places
---
---
---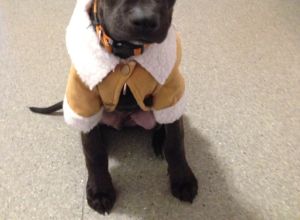 Pick a time slot for the walk.