---
Description
Teddie is 55 pounds of goofy Australian Shepherd x Border Collie , still very much a puppy with all the puppy energy. Would love for him to meet more people and more doggies , all the while getting more activity ! He's just a loving playful dog and deserves to get as much as he can get . He is very social ; adores people and loves to play , especially with other dogs his size , likes to wrestle and chase. He has a blast at Dog parks ! Teddies very food motivated , treats always work well . Enjoys training , likes to do tricks and play tug. Unfortunately he's not a fetcher yet , hit and miss - still a work in progress . Lots of stamina for walks , tends to walk well but will pull from time to time, he forgets his manners , not unusual for a teen dog. Teddie is waiting for you !
---
Personality
Dog friendly
Player
Pulling
Obedient
This dog is comfortable being walked by multiple people
---
Day
Morning
Afternoon
Evening
---
Favorite Places
---
---
---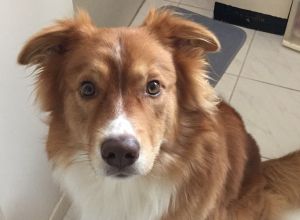 Pick a time slot for the walk.