---
Description
13 lbs west highland terroir and bichon Cross. Loves cuddles, being petted and being walked. Loves food! 8 years young and still very energetic. Goes to doggy daycare and very social. Lives at home with a toddler so he is child friendly. Neutered. Comes when called at home but poor recall off leash (say in a park) because he gets distracted so easily! So would stick with contained dog runs if planning on taking him off leash outdoors. Otherwise walks very well on leash and doesn't pull.
---
Personality
Dog friendly
Player
Easy
Obedient
This dog is comfortable being walked by multiple people
---
Day
Morning
Afternoon
Evening
---
Favorite Places
---
---
---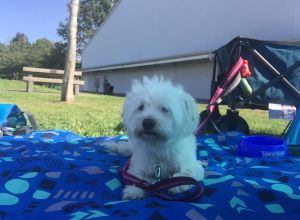 Pick a time slot for the walk.