---
Description
60 lb lab retriever cross. Super friendly and energetic but also very chill. Likes to lie around the house but loves going for walks and running around the park. Good recall. A little scared of bikes, skateboards and some men. Likes playing tug of war with ropes and chewing on his toys. Plays with his mouth a bit but never bites. Super soft coat so very lovely to pet. Pulls slightly on leash but otherwise easy to walk. Good recall so able to do hikes and walks off leash. Lives with a toddler so child friendly. Friendly with other dogs as he attends doggy daycare routinely. 8 years young.
This breed is naturaly friendly towards strangers.
---
Personality
Dog friendly
Player
Easy
Obedient
This dog is comfortable being walked by multiple people
---
Day
Morning
Afternoon
Evening
---
Favorite Places
---
---
---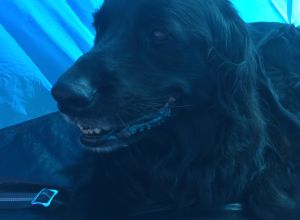 Pick a time slot for the walk.