---
Description
Lucy is a 10 year on Bichon Frost and Shih Tzu cross. She's full of love for people and has the sweetest temperament. She likes other small dogs to some degree but prefers people. She's energetic and can pull. She's up for reasonably long walks but tends to go slower on hills.
This breed is naturaly friendly towards strangers.
---
Personality
This dog is comfortable being walked by multiple people
---
Day
Morning
Afternoon
Evening
---
Favorite Places
---
---
---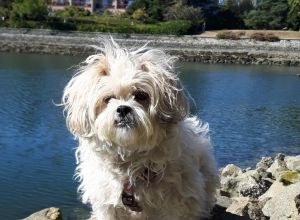 Pick a time slot for the walk.