---
Description
Franky is an absolute sweetheart! She loves to give kisses and meet new people, though she is a bit shy at first! She is gentle with kids, and loves to make new puppy friends, though she plays rough, boxer style so some little dogs don't like her. She loves hikes, playing fetch, rolling in the grass, going for runs, and peanut butter. She is also a great cuddler! She's in need of someone to give her love and attention while I am at work during the day.
This breed is naturaly friendly towards strangers.
---
Personality
Dog friendly
Player
Easy
Obedient
This dog is comfortable being walked by multiple people
---
Day
Morning
Afternoon
Evening
The owner accompanies you for the first walk
---
Favorite Places
---
---
---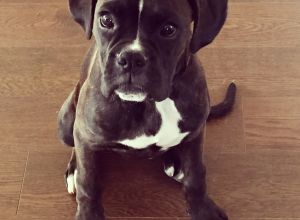 Pick a time slot for the walk.