---
Description
Bella is a rescue dog from Texas. We flew her up to Canada 2.5 years ago and we estimate she is about 5 years old. When we first got her, she had many issues to work through. These days, however, she mainly just needs a friend to be around during the day, as she still isn't convinced that being alone is very fun! She primarily needs someone to spend at least a few hours with at a time. She is about 25 lbs, but is convinced that she is a lap dog. This is probably good, as she has developed some Arthritis in her back leg and would be more suited to spending time with someone who is happy to take her on short walks and cuddling on the couch with her. She is an absolutely lovely dog, who I am sure you will fall in love with as well!
This breed is naturaly friendly towards strangers.
---
Personality
Lonesome
Calm
Pulling
Obedient
This dog is comfortable being walked by multiple people
---
Day
Morning
Afternoon
Evening
---
Favorite Places
---
---
---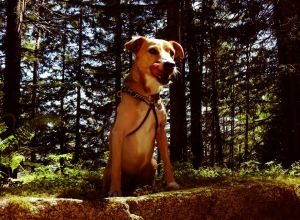 Pick a time slot for the walk.