---
Description
I'm happiest when I'm trotting beside you on the trail or through the city. No, I'm happiest when I first see you and we say hi! No, I'm happiest when you're petting me! I'm just pretty happy most of the time... If we stop moving for too long I start to wonder why you haven't given me a sled to pull, so i might not be the funnest brunch date in a crowded spot. I love talking to other dogs and can get along with just about anyone if they don't mind very enthusiastic puppy kisses. Since I want to play with everyone, I'm quite careful not to step on the little dogs (I don't want to offend anyone). I come on a little strong for small children, so make sure their parents know what they're getting into before you let them say hi. Karaoke is my favorite, just start singing & I'm always up to harmonize with you 🐺🎶 Wait, no, running is my favorite! No, squirrels are my favorite!
This breed is naturaly friendly towards strangers.
---
Personality
Dog friendly
Player
Pulling
Obedient
This dog is comfortable being walked by multiple people
---
Day
Morning
Afternoon
Evening
The owner accompanies you for the first walk
---
Favorite Places
---
---
---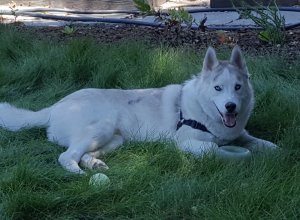 Pick a time slot for the walk.