---
Description
Maeby is a 4 year old samoyed. She is friendly, happy and overall just the best. She loves both dogs and humans but hates cats. She loves to meet new people and make new friends. Ben (Benjamin) is a 1 year old boxer mix. He loves people and loves to go on walks. He still acts like a puppy and is very rambunctious. He is very energetic and easygoing. He is cool with people and other pets.
This breed is naturaly friendly towards strangers.
---
Personality
Dog friendly
Player
Pulling
Obedient
This dog is comfortable being walked by multiple people
---
Day
Morning
Afternoon
Evening
---
Favorite Places
---
---
---
---
Review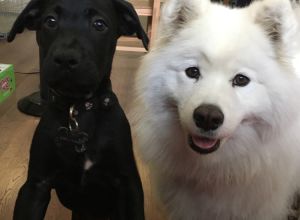 Pick a time slot for the walk.