---
Description
Harley is a gentleman of a dog. Hes a mongrel but mostly english and american staffies croseed with collie. He was adopted 3 years ago and is now a princely 6 years old. He loves humans and enjoys the company of well behaved dogs but is a bit choosey with whether he will actively play or just be in their presence. He loves cuddles, belly rubs, chasing squirrels and squeaky balls and doing tricks for treats.
This breed is naturaly friendly towards strangers.
---
Personality
Dog friendly
Player
Pulling
Obedient
This dog is comfortable being walked by multiple people
---
Day
Morning
Afternoon
Evening
---
Favorite Places
---
---
---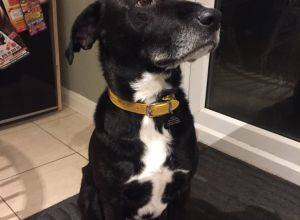 Pick a time slot for the walk.