---
Description
My name is Nikita, I am a miniature dachshund and I'm a year and a half old! I do like to bark at strangers but I would never ever bite! I love chasing balls but mostly squirrels 🐿 If I get to know you- I love you uncondtitionally! I'm a very good girl (my mom tells me that all the time). 🐾 I like big dogs, but it is a little harder for me to play with them because they tower over me and sometimes they pounce on me and it hurts my long back. It's much easier to play with dogs who are on the smaller side.
---
Personality
Dog friendly
Calm
Easy
Untrained
This dog is comfortable being walked by multiple people
---
Day
Morning
Afternoon
Evening
---
Favorite Places
---
---
---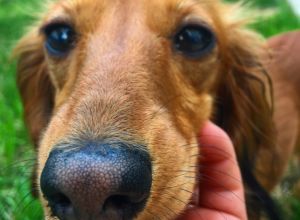 Pick a time slot for the walk.