---
Description
Remy is my beagle and she loves meeting other dogs. She lives with her big sister, so she is used to larger dogs but would love to hang out with some peeps her own size. She is a huge cuddler and loves to sleep under the blankets. Lexi is my rescued german shepard, hound mix. She is the biggest sweetheart once she warms up to you. She is our protector and will do anything to keep us safe if it came to it. She loves to run and be off leash as much as possible! She has some quirks but overall, shes a great girl.
This breed is naturaly friendly towards strangers.
---
Personality
Dog friendly
Calm
Easy
Obedient
This dog is comfortable being walked by multiple people
---
Day
Morning
Afternoon
Evening
---
Favorite Places
---
---
---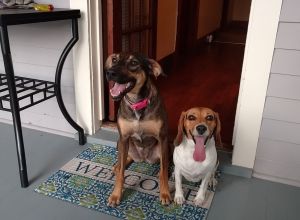 Pick a time slot for the walk.