---
Description
9 Week old pit bulls, brother and sister. Would love to socialize early on. Tsunade is the clesr leader, ready for most adventure but is a little timid around big exitable dogs. Brother Neji is much shyer, would love to see them blossom in confidence.
This breed is naturaly friendly towards strangers.
---
Personality
Dog friendly
Player
Pulling
Obedient
This dog is comfortable being walked by multiple people
---
Day
Morning
Afternoon
Evening
---
Favorite Places
---
---
---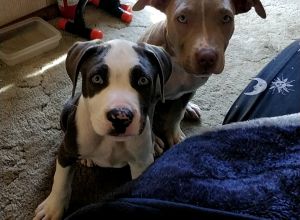 TSUNADE & NEJI
American Pit Bull Terrier
Pick a time slot for the walk.