---
Description
Hermes est un chien tres tres calin, qui peut etre un peu brutus dans ses demonstrations affectives... Il ecoute bien tous les ordres qui lui sont donnes avec douceur, pas les autres... Il adore jouer, les petites balades pas trop longues et manger! Il naime pas les autres chiens a part les plus petits que lui mais sous surveillance... Et il ne faut pas d'enfant car il en a peur...
This breed is naturaly friendly towards strangers.
---
Personality
Lonesome
Player
Easy
Obedient
This dog is comfortable being walked by multiple people
---
Day
Morning
Afternoon
Evening
The owner accompanies you for the first walk
---
Favorite Places
---
---
---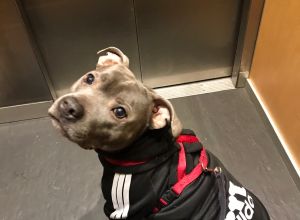 Pick a time slot for the walk.