---
Description
Cricket is a recently adopted terrier mix. She is 3 years old and lives squeaky toys. She likes hanging out with me and is a bit of a velcro dog. She gets nervous when meeting people and looks to me for comfort. We havent met many other dogs yet, but so far Cricket hasnt been the nicest and barks a bit. We are looking to meet other pups and their owners to help Cricket socialize more.
This breed is naturaly friendly towards strangers.
---
Personality
Lonesome
Calm
Easy
Untrained
This dog is comfortable being walked by multiple people
---
Day
Morning
Afternoon
Evening
The owner accompanies you for the first walk
---
Favorite Places
---
---
---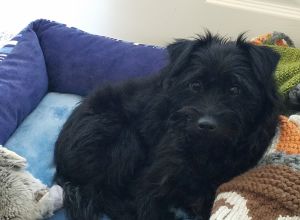 Pick a time slot for the walk.