---
Description
Gus is a rescued beagle cross from Size Small Dog rescue. He loves to cuddle, play, walk and run. Gus is a lap dog and enjoys spending time with company. He likes long walks and runs (with plenty of time for sniffing). Gus likes to bark at intruders (even if they've only just left the room... and it's their house) He usually warms up to strangers after a visit or two. Gus knows basic commands, but his English isn't great so we use signs. Gus likes other people and dogs on walks, and enjoys the fully fenced dog park. Gus goes off leash with us, but he isn't ready to go off leash with any new friends.
This breed is naturaly friendly towards strangers.
---
Personality
Dog friendly
Calm
Easy
Obedient
This dog is comfortable being walked by multiple people
---
Day
Morning
Afternoon
Evening
---
Favorite Places
---
---
---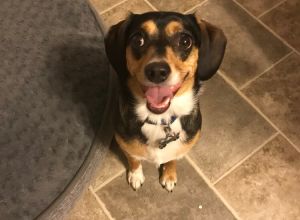 Pick a time slot for the walk.