---
Description
Murphy is a german shorthair pointer and takes this very seriously. He points out all thw birds, squirrels and other moving things during his walks. He is also serious about his play time; tugging rope, chasing balls, and splashing in shallow water are his favourite things. He loves to play with other dogs and this is where he gets goofy. He will chase, wrestle, or play however another dog prefers to play. He alsp enjoys his walk time, but it is again, serious business as he is on a mission to get somewhere. Murphy does not like yappy dogs or onea that snarl, growl or nip. He also does not like being smothered in cuddles. He would much rather go for an adventure and discover new smells.
---
Personality
Dog friendly
Player
Pulling
This dog is comfortable being walked by multiple people
---
Day
Morning
Afternoon
Evening
The owner accompanies you for the first walk
---
Favorite Places
---
---
---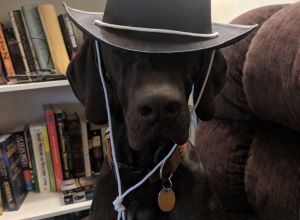 Pick a time slot for the walk.