---
Description
B'Elanna is a lovable rescue from the SPCA. She's about 50lb and a mysterious mix of many things we think maybe pit, lab, and Australian cattle dog. B'Elanna enjoys sitting on people, ball, playing with anything that contains a squeaker, and wrestling with other dogs. She loves to chase and wrestle with other dogs. She's pretty good at adopting to other dogs style of play, but does prefer it a bit rough and doesn't play very well with dogs that bark a lot. B'Elanna also loves attempting to chase pigeons and people on skateboards.
---
Personality
This dog is comfortable being walked by multiple people
---
Day
Morning
Afternoon
Evening
---
Favorite Places
---
---
---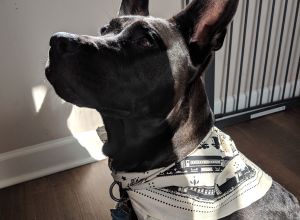 Pick a time slot for the walk.