---
Description
Our super fun-loving adorable Frenchie girl brings us endless laughter and enjoyment every day. She has a typical frenchie personality; playful, loving, crazy at times and, of course, ocassionally stubborn and lazy! She loves people and cuddles and is great with little ones. Whilst she can sometime be a stubborn walker and just wants to rest in her cosy bed, she loves to play with other dogs (the bigger the better!) and seemingly never gets tired.
This breed is naturaly friendly towards strangers.
---
Personality
This dog is comfortable being walked by multiple people
---
Day
Morning
Afternoon
Evening
The owner accompanies you for the first walk
---
Favorite Places
---
---
---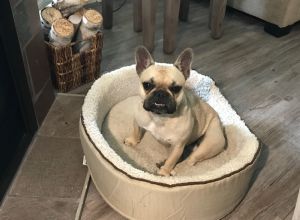 Pick a time slot for the walk.