---
Description
Shes a mix of spaniel and terrier. I adopted her when she was a puppy and shes been growing up in a home with a 1 yr German Shepherd. She is scared of EVERYTHING (halloween decorations, anything new) and very submissive. This causes her to bark a lot but not in a "im going to bite you" but in a "im scared, please dont touch me to fast!" To some people, she goes and lays straight on her back wanting you to rub her belly. She knows most basic commands and better off leash than on. She loves to play fetch too!
This breed is naturaly friendly towards strangers.
---
Personality
Dog friendly
Calm
Obedient
This dog is comfortable being walked by multiple people
---
Day
Morning
Afternoon
Evening
---
Favorite Places
---
---
---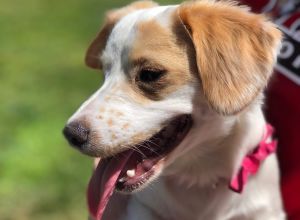 Pick a time slot for the walk.